Turn Your Basement Into A Family-Friendly Space
30+ basements masterly remodeled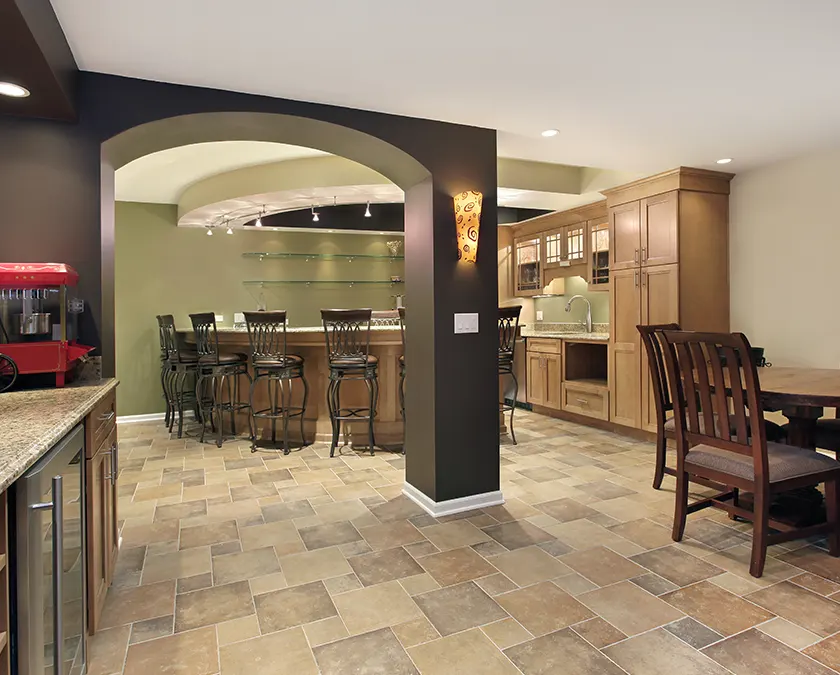 Your Home's Hidden Treasure
When we usually think of basements, we conjure up thoughts of dark, damp spaces where tools, boxes, and camping gear are stored – which means that we don't care too much about it.
Yet, if you look closer, you'll see that your empty basement can be more than a storage room. Imagine a place where you can gather your family for board game sessions or your friends for late-night talks.
It's time to look at your basement differently and take advantage of its full potential. Transform it into something incredible for you and the ones that matter the most to you.
Enjoy A Room Crafted For Your Family's Needs
With a remodel, your basement has the potential to become one of the best rooms of your house. Forget about the cold, empty place it once was, and embrace a warm room filled with possibilities.
When contacting Shoreline Restoration & Construction, your possibilities are endless. Perhaps you need a home office to work efficiently from home, a place where kids can play safely, or a movie theatre to spend quality time with your family and friends on Friday nights.
Every thought you have can come to life. With our help, you can turn your basement into the place you and your family needs.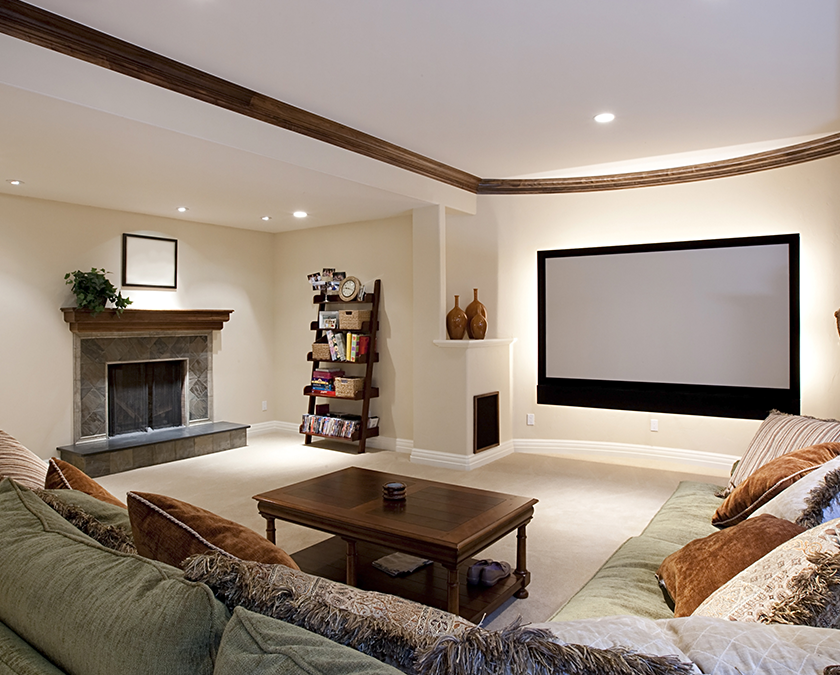 We love creating unique basements where you can gather all your loved ones and spend time together. When you work with us, we'll make sure the process is stress-free while our professionals care for your every need.

Fill out our form and describe your vision as best as you can. Attach some photos as well so we can better understand what you have in mind. We'll call you to discuss more about the timeline, the budget, and the design of your new basement.

Once we finish the on-site consultation and we're on the same page with all the details, we'll start working on your basement. As your project progresses, we'll keep you updated at every step and answer any question you might have.

When everything is done, we'll clean up the place so you can enjoy a spotless basement. We'll also do a final inspection to make sure every detail is taken care of. Enjoy peace of mind with our five-year labor warranty and  celebrate your new basement.
Basement Remodeling Prices
No matter how complex your vision is, we want to make sure you get exactly what you want. From movie theatres to fully equipped bedrooms, your basement will be tailored to you. We pride ourselves on our communication throughout the process so you can be comfortable with any work being done.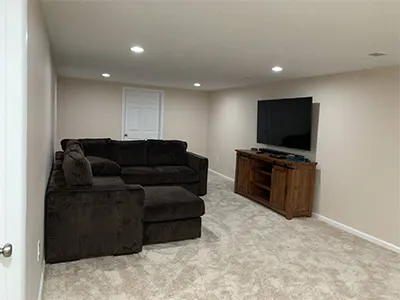 Includes wall framing, painting, lighting, hanging drywall, flooring, electrical work, fresh painting, and a standard height ceiling.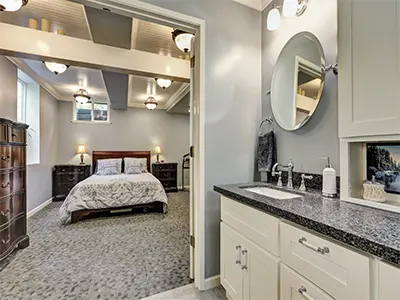 Average Basement Remodeling*
Includes framing, electrical, drywall, plush carpet or LVP flooring, grid or drywall ceiling, recessed lighting, and a fully renovated bathroom.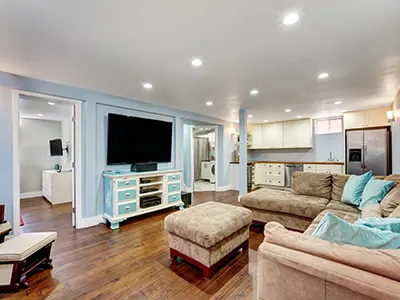 High-End Basement Remodeling*
Includes framing, electrical, drywall, plush carpet or LVP flooring, grid or drywall ceiling, recessed lighting, fully-equipped bathroom, or wet bar/kitchenette. Can also include an additional bedroom with an egress window.
*Prices are averages and may change depending on the size of your basement and your choice of materials, finishes, and overall design. You'll receive an exact quote for your unique basement remodel after the in-home consultation.
The Proof Of Happy Customers
Giving you the home you deserve is our top priority. Happy homeowners have shared their feedback regarding our work. Here's what they have to say about us: ​
There Was a flood in my basement and Shoreline Restoration was there in a couple hours pumping the water out. Couldn't believe the response time.
They proceeded to handle all the communication with the insurance company making it a worry free experience. Thank you so much!
Very thankful for all Dan did to help with restoring my flooded basement. His knowledge, professionalism, and responsiveness brought a peace and comfort knowing he would make sure whatever was needed would get completed timely and with quality.
Cannot thank him enough!! We will definitely be using shoreline restoration and construction for all our future needs!
Only took a couple days, and cleaned up all their mess. All the guys were nice!
The owner is friendly and easy to talk to. We went with them from a recommendation from someone, pretty satisfied we did!
Remodel Your Basement And Enjoy A Fun Room For You And Your Family