Enjoy Your Everyday Life In A Kitchen That Looks Like It's Pulled Out Of A Magazine
41+ beautifully remodeled kitchens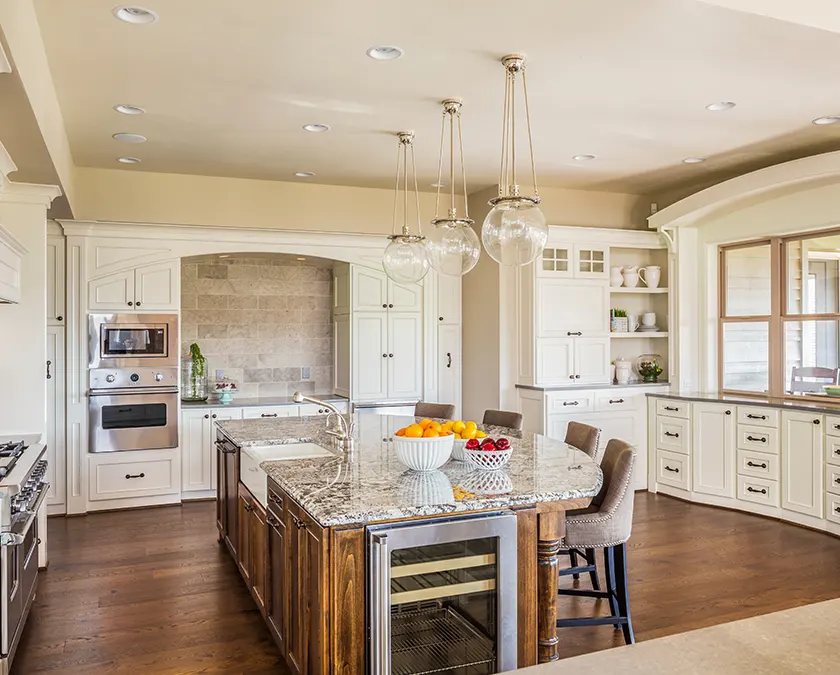 In every household, the kitchen is the perfect place for family events. Whether it's just everyday breakfast or a birthday celebration, all your loved ones can gather around the table. It's where they share stories and have a great time while enjoying a good meal or an evening drink.
If you think that your kitchen isn't spacious enough yet, consider a remodel. With a new spacious layout, you can make sure everyone feels comfortable. Add a larger counter top to prepare food, smart appliances to make cooking more manageable, and an island for more seating options. With these new amenities, your new gathering place is ready!
We're here to help you transform your kitchen into a place where your family will love to reconnect.
Enjoy A Kitchen That's Tailored To You
Your kitchen is the heart of the home; it's where you drink your morning coffee, catch up with your family, and entertain guests in the evening. This is why your kitchen needs to look and function perfectly. If you think that yours needs a little more attention, we're here to help.
It's time to create a kitchen that looks and works just the way you want. More storage space is imperative to keep your place organized, and perfect fixtures will highlight your kitchen's best features. You deserve a home that reflects your style and personality.
With our help, you can remodel your kitchen to give you and your family a new place that can transform every breakfast into a lifetime memory.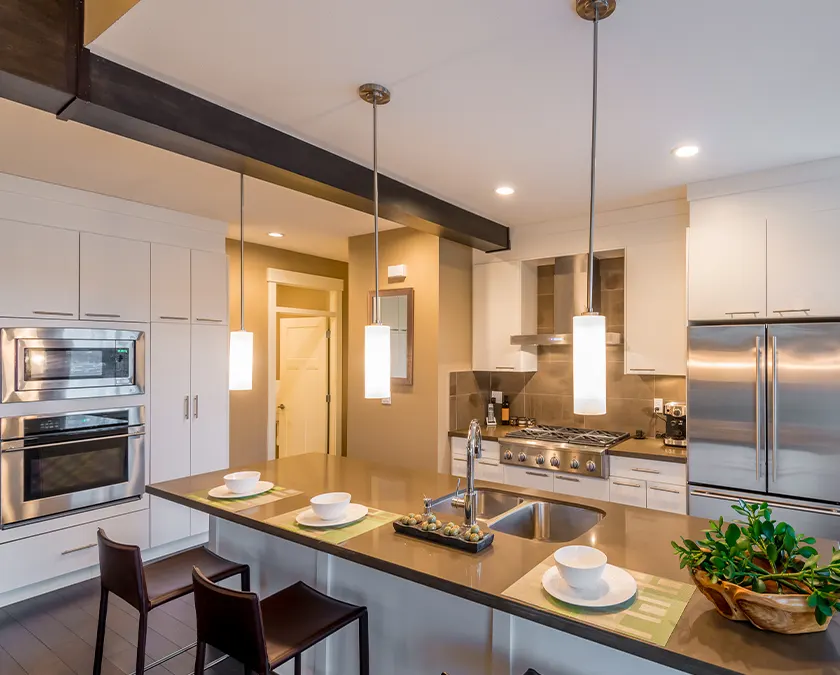 We love creating unique kitchens where you can gather all your loved ones and spend time together. When you work with us, we'll make sure the process is stress-free while our professionals care for your every need.

Fill out our form and describe your vision as best as you can. Attach some photos as well so we can better understand what you have in mind. We'll call you to discuss more about the timeline, the budget, and the design of your new kitchen.

Once we finish the on-site consultation and we're on the same page with all the details, we'll start working on your kitchen. As your project progresses, we'll keep you updated at every step and answer any question you might have.

When everything is done, we'll clean up the place so you can enjoy a spotless home. We'll also do a final inspection to make sure every detail is taken care of. Enjoy peace of mind with our five-year labor warranty and get ready to celebrate your new kitchen.
Kitchen Remodeling Prices
No matter how complex your vision is, we want to make sure you get exactly what you want. From a modern kitchen design to a classy island, your kitchen will be tailored to you. We pride ourselves on our communication throughout the process so you can be comfortable with any work being done.​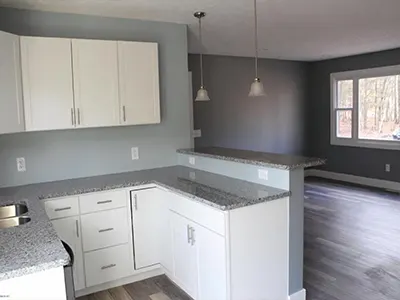 Includes refacing existing cabinets or installing new stock kitchen cabinets, new countertops, lighting, plumbing fixtures, and a new tile backsplash.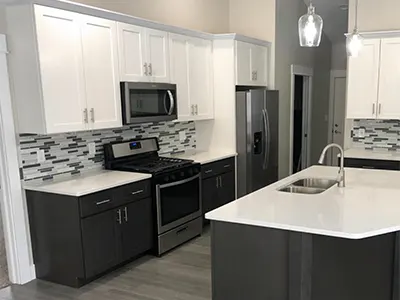 Includes installing semi-custom cabinets, an updated lighting configuration, new appliances, new countertops, and a new tile backsplash.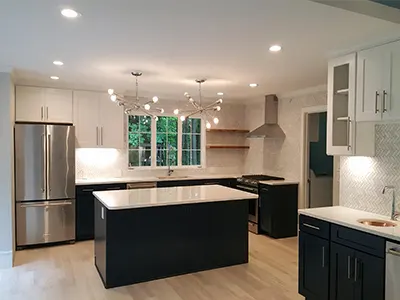 High-End Kitchen Remodel*
Includes a complete reconfiguration of your kitchen layout with custom cabinets, premium quartz countertops, premium tile backsplash, and custom lighting configuration.
*Prices are averages and may change depending on the size of your kitchen and your choice of materials, upgrades, and finishes. You'll receive an exact quote for your unique kitchen remodel after the in-house consultation.
The Proof Of Happy Customers
Giving you the home you deserve is our top priority. Happy homeowners have shared their feedback regarding our work. Here's what they have to say about us: ​
I can't say enough great things about Kyle and his entire crew. They are professional, courteous, have great communication, and can get to the job in a timely manner.
They did a complete kitchen remodel including demolition of the original kitchen, all new cabinets, custom countertops, new light fixtures, added island with butcherblock, flooring, shiplap, subway tile backsplash with accent tile above the range, and even appliances installation. The whole kitchen is brand new and we are in love with every aspect of it.
I called a local company to do an emergency roof repair , and that company gave Shoreline Restoration my name. Kyle called and within a couple hours was at my home assessing the damage . Having never filed an insurance claim nor dealt with home damage , Kyle walked me through every step , answering my million questions with the patience of a saint . From start to finish Kyle and his entire team took care of everything , from dealing with my homeowners insurance , to notifying my mortgage company , to even letting my dog out while they were working at my home .
Through 5 weeks of construction, not once did I enter my home in anything but spotless conditions, this team ensures they wipe everything down, and leave nothing behind to cause more stress. I now have a BEAUTIFUL new kitchen , and I couldn't be happier.
If there was a 10 star rating , I would give it . I have some projects I'd like to do in the future and I will be calling Shoreline Restoration & Construction to handle those projects . Kyle and team thank you again for being amazing , helping me understand the entire reconstruction process , and being so kind when I was in panic mode.I appreciate you all , and am truly truly grateful for the beautiful new kitchen. 
We have hired Dan and Kyle to do several remodeling jobs at our home and have recommended them to several friends.
The end result is always better than expected..they are honest and reliable along with the subcontractors they hire.
Make Your Kitchen A Place Everyone Will Love Spending Time In